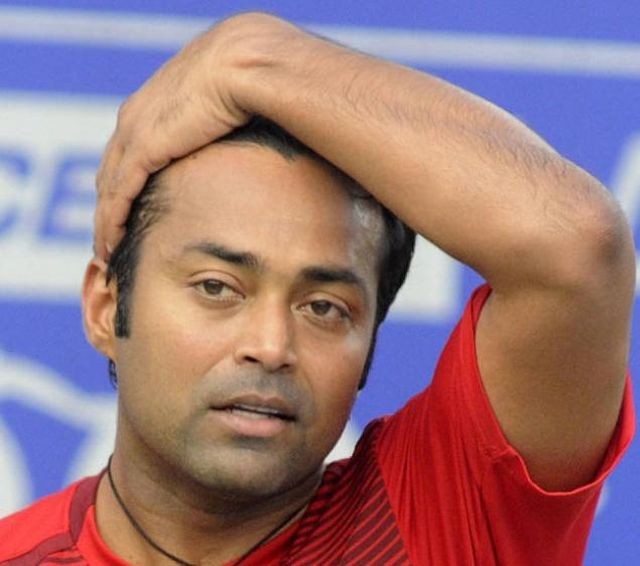 Indian Tennis Star Leander Paes is set to soldier on, the doubles star stating with confidence that he will not break down before the 2016 Olympics.
At the draw ceremony on the eve of the Asia-Oceania (Group I) relegation tie between India and Indonesia, Paes said: "Everyone is talking about next Olympics, and I don't see why I can't take part in it.
Feeling great
"My body feels great, I'm injury free, and I'm mentally very happy."
The 39-year-old, playing his 50th Davis Cup tie, credited the younger members in the team for instilling in him a will to march on.
Present and future
"I believe that these three cats (Somdev Devvarman, Yuki Bhambri and Sanam Singh) are the present and future of tennis in India.
"I see Yuki target ball cans when he practices his serves, and he smacks them left, right and centre.
"I watch Somdev run around the court. I was playing doubles with Sanam yesterday, and I see how he takes such a short backswing.
"These are things I learn from all of them. I play tennis because I'm passionate about it, and these three young guys will definitely motivate me to get to the Olympics," he said.
Commenting on the year ahead on at the ATP tour, Paes stated that he would partner Jurgen Mulzer at the Madrid Open, Rome Masters and the Monte Carlo Masters.
After these three events, he is likely to take a call on a new partner.
"It's a bit of a tough ask at the moment, though, because most players are set with partners for the whole year," he said.
Indonesia's Wisnu Adi Nugroho, the World no.1774, stated that he has "nothing to lose" when he takes on the much-higher ranked Devvarman in the opener.
Christopher Rungkat, the team's spearhead, added that the match experience gained by Nugroho would prove helpful for Indonesian tennis in days to come.